April 22, 2021
Noosa resorts for families – Top 5 things to do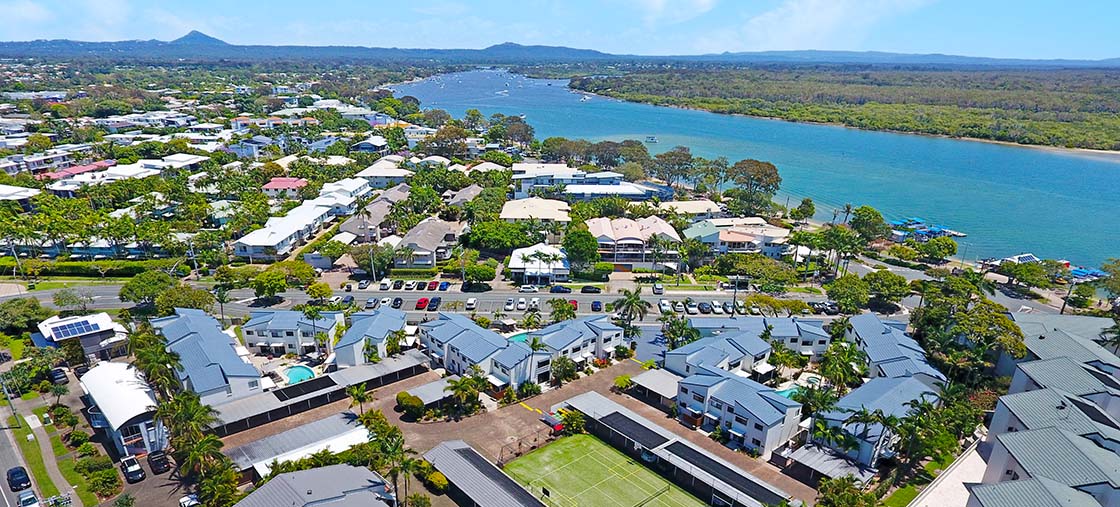 Are you looking for Noosa resorts for families and the top things to do with kids? We have put together the top 5 things to do in Noosa that's easily accessible from our family friendly resort. So, you can get excited about planning your family holiday to Noosa!
1. Unwind and play along the Noosa River
The Noosa River is a great part of Noosa to unwind, play and socialise. The Noosa River Pirate Playground is a kid's paradise with six slides, rope climbing apparatus, three-person swing and a large, fenced wheelchair-accessible swing. It's covered by sail shades to keep your little ones safe from the sun.
Free paddle board and kayak hire
The beautiful Noosa River is excellent for water activities. And lucky for you and your family, we have 3 stand-up paddle boards, 1 double kayak and 2 single kayaks. These are FREE for hire if you
book your stay
direct with us and for a small fee if you have booked through another company. Take the kayaks or a boat to one of several sandbar islands around the Spit, where you can refresh yourselves in the calm waters, only accessible by boat or kayak. Navigating the calm waterways as a family is a fun way to take in the gorgeous natural sights.
2. Beach, beach, beach!
Noosa is renowned for its incredible beaches, so if your family loves the beach, then you'll be spoilt for choice. Noosa Main Beach is so popular because the headland often provides shelter from the wind, so the calmer conditions are ideal for small children. It's patrolled year-round, so you and your family will feel even more safe! The beaches throughout the National Park are more secluded, but they can get stronger currents and some areas are rocky. So, these little bays are fab for a leisurely picnic and for stronger swimmers. To enjoy long and uninterrupted sandy walks, follow the coast road south to discover Noosa's Eastern beaches. Check out the quaint villages of Sunshine Beach and Peregian Beach for some food and playtime! Here you'll find skate parks, playgrounds, kid-friendly restaurants and open spaces for family activities.
3. Running wild in the Noosa National Park
The Noosa National Park is an excellent place for the entire family to let off some steam. This stunning, protected headland can be reached by the boardwalk from Noosa beach. With multiple lookouts and beaches along the coastal track, break for a picnic, to take a dip or to spot sea turtles and dolphins! Keep your eyes peeled for the migrating humpback whales, which can often be seen from the lookouts between May and November. Plenty of wildlife, including koalas and tropical birds call the 40 km² park home. There're
several trails
that will guide you through the park and along the coastline, where it's easy to embrace nature, so it's a great activity to do more than once on your holiday.
4. Finding treasures at the markets
Who doesn't love a market on holiday? Lucky for you there's many Noosa markets throughout the Shire, but here's two of the well-loved markets to get you started. The renowned and original Eumundi Markets is the biggest and best arts and crafts market in Australia. You and your family will be dazzled by the all the original and fabulous delights on offer from talented locals. Get ready to dash around this expansive market, open-mouthed and excited at finding hand-made jewellery, unique fashion, distinctive art, gorgeous homeware and tonnes more. Choose from a big range of mouth-watering locally produced food and drink stalls, so no one will go hungry, but it might take a while deciding what you want all want! Open EVERY Wed 8am – 2pm and Sat 7am – 2pm. From us it's a 20-minute drive, or 40-minute bus ride away! The Noosa Farmers Market is crammed full of lip-smacking breakfast and brunch options including potato cakes, buckwheat pancakes, bacon wraps, pastries, fresh smoothies and coffee. Catering for everyone, there's gluten free and vegan options and a lot is organic. You'll also find stalls with exotic food, organic fruit and veg and local hand-crafted souvenirs. Chill under covered seating areas and listen to some live music while you indulge yourselves! It's on every Sunday from 7am till 12pm, so either get there early to get first dibs, or come later and save some $$ on the last of the produce.
5. We'll let you in on some hidden secrets, shhhh
Free live music
Come and listen to free live music outside the Boathouse on Friday and Saturday late afternoon/early evenings most weekends! This brings together people of all ages from all walks of life to the Noosa River. On the grassy verge, there's families enjoying picnics on blankets with their kids, people with fish and chips on benches and others with fold up tables and chairs with bottles of wine and cheese platters. This is a fantastic family vibe!
Feeding fish in the Noosa River
Feed the fish for just $1 per bag from the dispenser outside the Boathouse, which is a fun budget friendly activity for the kids! So, you can keep your kids entertained while you relax along the Noosa River shoreline!
Noosa resorts for families
Deciding on the best Noosa resorts for families? Noosa Place Resort is conveniently located walking distance, or just a short drive or bus ride away from all the top things to do with kids – yah! Our family friendly, Noosa River accommodation has a great selection of fully self-contained 2-bedroom apartments. Each apartment is two-storeys and has one queen bed, two single beds, one bathroom and free WIFI and a smart TV. Noosa resorts for families doesn't get much better than having an amazing
selection of facilities
that are fun for adults and kids. Relax and play all year round in any of the three heated swimming pools; relax in one of the two heated spas; play some tennis like a pro in the full-size court and finish off your day with a family BBQ in our undercover entertaining area. Happy family holidays!
Explore our apartments and save 10%