October 28, 2021
Can't decide where to eat from all the fabulous Gympie Terrace restaurants? We're not surprised. There's such an excellent range of cuisine from passionate owners and chefs that ideally, you'd eat in them all!
There's a reason that cosmopolitan Gympie Terrace is known as 'Eat Street'. So, whether you've been to Noosaville before or planning your first trip, we've chosen the Gympie Terrace restaurants you NEED to try.
YOYO Bar & Restaurant
Slip into that relaxed Mediterranean dining experience at YOYO Bar & Restaurant. Upbeat music along with the bar-style seating spills onto the timber deck overlooking Noosa River – offering a relaxed and uplifting mood.
Owners Marc Romanella and Lara Graham have created a restaurant that prides itself on quality service and exceptional food and drink with a laid-back and coastal charm.
You'll enjoy a flavour explosion from Head Chef, Ash Warncken, who creates dishes from a locally sourced, sharing style tapas menu that offers some Spanish favourites with an Australian twist. Some firm favourites are the Pork belly, Basque cider, parsnip puree & torched spring onion, Charred Octopus, kumara, pickled carrot, romesco & chilli oil, and of course, patatas bravas. Get ready for a fine sensory experience!
You're in safe hands with the knowledgeable and passionate Romanella, who has 35 years' experience in the industry. You'll be treated to an exceptional wine list that Lara oversees, liaising with up to 30 suppliers. Or if cocktails are your thing, you might be spending a while choosing from their long and impressive selection.
250 Grammi
Look no further that 250 Grammi for authentic Italian cuisine. Danny Giannarelli, founder and owner and business and life partner Daniela Pellizzato remain true to Italian heritage and flavours, therefore 75% of ingredients are imported from Italy. They are known for their fabulous pizzas, including gluten free, because they import high-quality flour and yeast from Italy. This provides authenticity, their unique selling point in this market. They also respect and love the region's local produce, so they use locally sourced fresh veggies, fish and seafood.
Lively and atmospheric, this is the type of restaurant where you can let your hair down and have a good time with your friends and family. Designed to share, you'll get a taste of more dishes – lucky you!
Head Chef, Melvin Benjamin Matos Feliz (Benjo), moved from the Dominican Republic to Italy as a toddler and grew up surrounded by Tuscan culinary culture. He has worked in France, the UK and Canada. Head Chef Pizza Art, Stefano Simoni, is hailed as one of the best Pizzaiolo in Melbourne and works an authentic Marana Forni pizza oven at 250 Grammi. From years of research and studies, pizza is Stefano's lifelong passion – you're in for a treat!
Maisie's Seafood & Steakhouse
Experience classic seafood by the charming Noosa River. Originally built in 1920 and run by the Massoud family as a café, it was the first of its kind in the district. Maisie Massoud, who was known then as 'The Favourite' worked as a chef and waitress at her parents' café and it was eventually named after Maisie to Maisie's Seafood & Steakhouse. Before her passing in 2005, Maisie would regularly dine here, enjoying oysters for entrée, main and dessert. Photos of Maisie and her family adorn the walls, where you can absorb the history and ambience.
Sit down to a great value meal, offering the firm family favourites, including Fisherman's Basket, steak with your choice of sauce and fish and chips. Freshly prepared using the finest local produce, when possible, you'll be served generous portions, so arrive hungry!
Choose to dine inside to soak up the colourful and lively atmosphere or dine outside and enjoy the cool river breeze and a bit of people watching. Keep it casual and bring your own bottle of wine for a moderate corkage $5 per person.
Wanderlust
Embrace the German cuisine at wanderlust – managed by Marc and Val, who relocated to Noosaville from North Lakes in 2019. Experience German Café culture mixed with Noosaville's laidback lifestyle. So, whether you just want a coffee, a traditional hearty German meal washed down with a classic beer, or more of a classic Aussie breakfast, this is your place.
Warm and welcoming, offering sensational food, full of flavour and perfectly cooked, plus a great selection of German and European beers to accompany your meal. If you've never tried German cuisine, then try it at Wanderlust!
The team are friendly and attentive, so kickback with your friends and family and get into the holiday spirit.
Walk to Gympie Terrace restaurants
Stay at Noosa Place Resort and walk to all the amazing Gympie Terrace restaurants!
All our family friendly, 2-bedroom apartments are fully self-contained and feature either a king or queen bed, two single beds and one bathroom, with free WIFI and a smart TV. Some of our Premium and Deluxe apartments have a separate ground floor powder room – super convenient!
Feel right at home in any of our individually styled apartments that offer outdoor seating in your private patio or balcony overlooking the pool and gardens or Noosa River.
January 21, 2021
Top 7 things to do in Noosaville 2021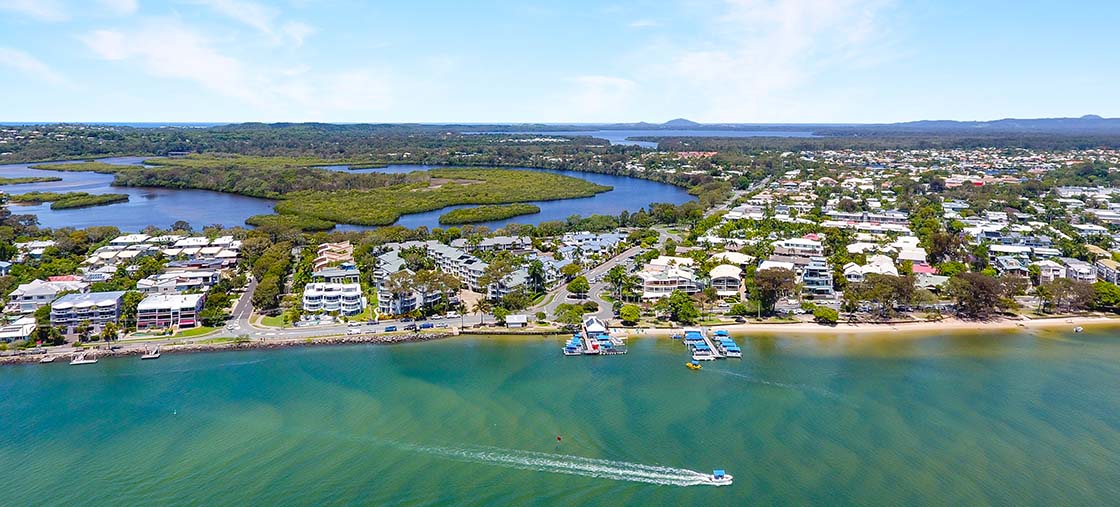 Are you looking for the top things to do in Noosaville? Then look no further, as we've put together a great selection of activities and places to visit during your Noosa holidays!
Noosa River & Canal Cruises
Take in the immaculate Noosa River on a daytime or sunset cruise with
Noosa River & Canal Cruises
. You'll cruise the river downstream from Noosaville to Noosa Heads and explore the beautiful hidden waterways of the Noosa Sound Canals. You'll also cruise through Woods Bay and out towards the river entrance before entering Weyba Creek. You can BYO food and drinks and catering is available with notice. This is the ideal activity for groups of friends and family gatherings, or for functions and celebrations. Cruises last from 1 to 2.5 hours.
The Noosa Spa
The Noosa Spa
is Noosa's original custom-built day spa offering the ultimate relaxation and rejuvenation. You'll enjoy a boutique spa experience that melts away any tension and leaves you feeling calm. Their long-term team of highly trained professionals will cater to your every need and offer one of the most extensive treatment options on the Sunshine Coast. Choose from customisable massages, facials and body treatments. They use beautiful Waterlily products that use the purest Aromaceuticals and Phytonutrients to create a performance driven sensory journey. Sound heavenly or what?
Boiling pot Brewing Co
Boiling Pot Brewing Co
was founded with the intent to develop beers that pair best with the idyllic sub-tropical climate. They make beers that you can drink at your own pace, no matter the season – sounds good! The boiling pot brewery was inspired by the explosion in craft brew creativity, experimentation and innovation happening around the world. Founded by Noosa local John Scott Madill, the Boiling Pot brewery looks after the locals and visitors who want to stop by for lunch, a beer or two, or to pick up some of their locally designed tinnies. They brew their beer out the back of their tap room, so you can get it straight from the source!
Noosa Boathouse
Enjoy the spectacular Noosa sunset from one of the best vantage points at the
Noosa Boathouse
. Floating just offshore in a perfect waterfront location on the Noosa River, the Noosa Boathouse is a well-loved bistro, bar and events destination! So, be a part of the relaxed Noosa lifestyle. The award-winning bistro is one of the most well-known Noosaville restaurants and is home to Little Boaty coffee bar, and a fish & chips takeaway window on the front deck. The bistro is on the ground level, the River Room function space on the middle level and you guessed it, the Sunset Bar on the top deck. Enjoy local produce that embraces fresh local seafood, quality beef and locally harvested produce.
Our lovely Noosa Place Resort guests can also enjoy 10% off food or get a free ferry ride from Hasting Street when dining at Noosa Boathouse – yah!
Belmondos Organic Market and Yukti Botanicals
Delight yourself in an organic wonderland at
Belmondos Organic Market
, which is home to the Tanglewood Organic Sourdough Bakery, Noosa Cleanse, Clandestino Roasters Specialty Coffee, Deli, organic pantry and bulk foods, and the cheapest organic fresh produce on the Sunshine Coast. Yukti Botanicals is located within Belmondos Organic Market and specialises in Ayurveda. Treat yourself to a full Ayurvedic health consultation, traditional massage, or facial and body wrap in their day spa. They also mix a complete range of certified organic, Ayurvedic formulas onsite and stock a range of natural medicine. Check out their handpicked range of skincare, makeup and personal care with a strong focus on local brands.
Noosa Hills Par 3 Golf Course
Fancy a day of golf set with a stunning environment? Then take a look at
Noosa Hills Par 3 Golf Course
which features 36 holes of varying lengths, set within 74 acres of beautiful bushland that's home to kangaroos and other native wildlife. This peaceful setting is sure to transport you away from everyday life. Mix with locals and visitors with the down-to-earth, positive and energetic staff. Then finish your game with a cold one and a chat in the clubhouse. Anyone can play any day, anytime and no bookings are required!
Stay in Noosa River accommodation in Noosaville
Now you know about some of the top things to do in Noosaville, it's time to decide where to stay! We are conveniently located walking distance, or just a short drive or bus ride away from all the places listed. Our family friendly, Noosa River accommodation has a great selection of fully self-contained 2-bedroom apartments. Our resort is set within fresh, tropical gardens where you can have fun in one of three heated swimming pools; relax in one of the heated spas; play a spot of tennis and have a slap-up BBQ. We are moments from Gympie Terrace, which has a fabulous selection of restaurants, bars, cafés and boutiques. You can also start many exploratory day trips from here to the Noosa Everglades or Fraser Island.
If you book direct on our website or by phone, you'll get free use of our stand-up paddle boards and kayaks during your stay!
We have 3 stand-up paddle boards, 1 double kayak and 2 single kayaks. They are available for hire for a small fee if you have booked through another company. We can't wait to welcome you to Noosaville!
Explore our apartments and save 10%
November 18, 2020
Pomona gin distillery – Go where the Noosa locals go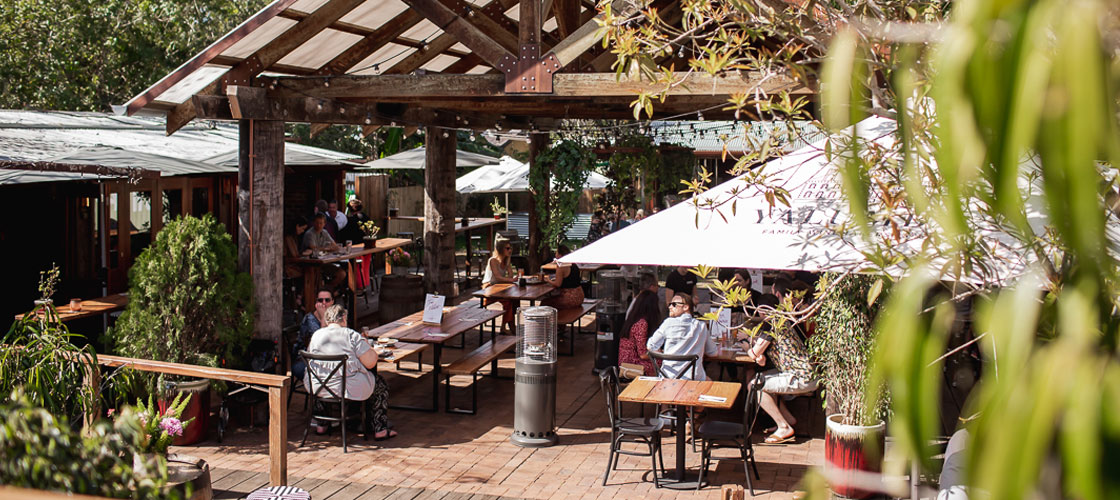 Love gin? Then you'll love the Pomona gin distillery
Located in Pomona and within the Noosa Shire is Pomona Distilling Co. Specialising in small batch production, they pick, select, distil, blend and taste all their gin before bottling and labelling by hand. By allowing their product the time to age, this allows the unique flavours of their organic botanicals to infuse and blend with the pure local spring water. This creates a premium quality gin that reflects their creativity, character and community spirit.
If gin's not your thing, don't worry, there's a mouth-watering selection of cocktails, wine and beer to keep you happy and refreshed.
So, if you fancy something different, why not book a couple of nights with us and head to the Pomona gin distillery and enjoy one of their popular gin tasting paddles!
Earthy food with Thai street food flavours
If it's scrumptious food you're after, then the Distillery has got you covered! Set in the original Pomona Bakery, dating back to the early 1900's, you can indulge in earthy food inspired by Thai street food flavours in the Bistro.
Choose from a great selection of small and large plates including scallops, pork belly and eggplant. With gluten-free and vegan options, there's something for everyone. Hungry yet?
Next time you're here, get your taste buds tingling and visit the Pomona gin distillery, the newest gin distillers in Noosa, and go where the locals go!
More than just a distillery
The Pomona Distilling Co is more than just a distillery. It's about showcasing the charming village of Pomona to the world and unique small-batch spirits focused on quality rather than quantity.
Master Distiller and owner, Robin Yates has been crafting this concept for 40 years. Robin experiments with gin blends using native organic botanicals, some foraged from his Pomona farm.
So why not join the Pomona community and celebrate with great locally produced food and smooth gin?
Stay in Noosaville and see the entire Noosa Shire
Our Noosaville resort is well positioned for you to enjoy the entire Noosa Shire. And Pomona Gin Distillery is a pleasant and easy 30-minute drive from Noosa.
You'll get the best of both worlds by staying with us, where you'll be moments from the stunning Noosa River and the glorious beaches.
We offer a range of fully self-contained apartments that are family friendly and all set within picturesque grounds.